Report Drifter
Plastic pollution impacts the marine environment in many different ways. Therefore, we have to identify the pathways through which litter enters the North Sea. In order to do so, we need your help!
You would like to participate? It's easy!
First, you need to decide whether you would like to report a drifter finding in a map on this website, or whether you would like to download the BeachExplorer app onto your smartphone. With the BeachExplorer, you cannot only report our wooden drifters but also identify and register beach litter in general as well as many other organisms and items that you come across on the beach.
| | |
| --- | --- |
| macroplastics.de, Report findings via PC... | BeachExplorer for Android |
|   |   |
| ... for iPhones | ... for Windows-Phones |
|   |   |
Once you've decided, you can get started! It only takes two steps to send the information.
Step 1:
Keep an eye out for:
wooden drifters
macroplastic litter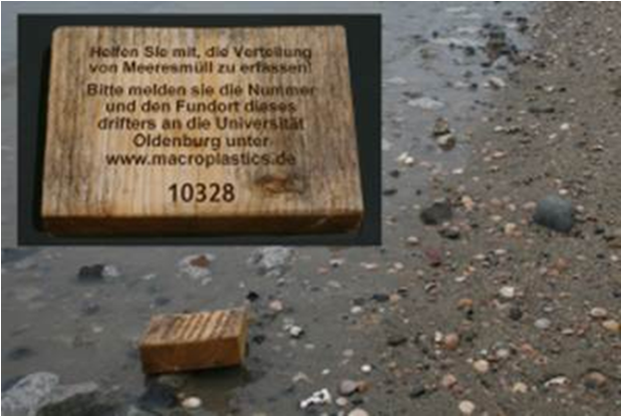 Finding a drifter. Wooden drifter with ID number.
Step 2:
Once you have found a drifter, select your browser and report your finding via the Report Portal. You do not need to register to do that. You simply have to select a spot on the map and enter the date of your finding as well as the drifter ID. Should you have noticed anything important, you can also leave a comment!
Don't forget to save and send! And that's it! Your drifter finding should now be visible in the overview map which you can also show to others.
If you have found and reported a drifter, you may keep it; otherwise, please release it back into the water at the same spot where you reported it.
If you wish to report litter findings, you can do so via the BeachExplorer. Please note the information on the download site of the app. Drifters can also be registered via the BeachExplorer app.
Many thanks already for your help! We would be delighted if you were to support us further in future!